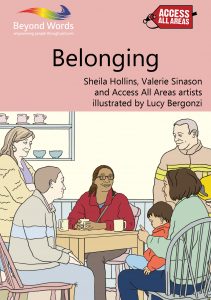 Finding friends and being lonely no longer
Belonging by Sheila Hollins, Valerie Sinason and Access All Areas artists, illustrated by Lucy Bergonzi. Beyond Words, pp56, £10/ebook £4.95
Reviewed by members of the Openstorytellers professional development skills group
This book explores the themes of isolation and friendship.
The story tells us that some people are stuck in their shell and don't go out but, when they do, their life changes completely. They feel better in their mind, and we know that keeping your mind busy is good for you.
The story is made with pictures; they are clear and easy to understand. It tells the story of a woman who seems to be lonely. When she goes out, everyone is looking at their mobile phones and bumping into her. It seems like mobile phones are taking over the world.
She looks lonely and like she has no support worker, so maybe she feels frustrated. Some of us found it upsetting because it reminds us of when we are lonely, and of things from our pasts.
We thought that the man in the shop may have autism, and it seems that he experiences betrayal when he is teased. It's as if his community betrays him.
It taught us that friends are important and having new friends makes you happy and want to socialise with them more.
Spending time with friends brings the best out in us, and that is clear in this book. In the book, the woman started off sad but ended up being happy because she has a friend and she's not lonely any more. She faced a big challenge, so it was brave of her to go out. We have all had experiences like this ourselves, so we can relate to it.
The interesting thing that we found is that people can tell the story in different ways, depending on what they see in the pictures. This was a good challenge for us and got us to think about storytelling in a new way. It was really useful to read the text at the end of the book to help us understand the story even better. The authors help us to think about community and friendship. It is helpful to have a support worker to talk about the book with you and help you understand it.
We would tell other people to read it to help them understand how they feel in real life. One day, the reader might find themselves in the same situation. It would be great made into an audio version, to help people who are visually impaired. Keeping safe, making friends, supporting people in the community – we think the authors said it all.
https://booksbeyondwords.co.uk/bookshop/paperbacks/belonging
Openstorytellers enriches and empowers the lives of people with learning disabilities through personal and classic stories: www.openstorytellers.org.uk