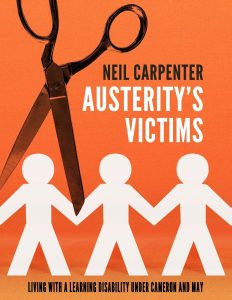 Austerity's Victims: Living With a Learning Disability Under Cameron and May Neil Carpenter Available on Amazon. Print: £6.57 (cost price): www.amazon.co.uk/dp/ 1984977601; Kindle, 99p: www.amazon.co.uk/dp/B07D3PVC8G
Neil Carpenter recounts the lives of five men with learning disabilities living in Cornwall, each of whom he has supported as an advocate. We are taken, in meticulous detail, through the daily lives of Frank, Les, Thomas, Mark and Danny (not their real names), widely different personalities from a variety of family and social backgrounds, but united by the fact that they each have a learning disability or, in one case, an acquired brain injury.
The cumulative effect of these accounts is an almost unbearable litany of sadness and shocking deprivation. There is a sense of lives blighted, not so much by having a learning disability – although Les does say 'I didn't ask to be bloody born like this' – but by the poverty that seems to come inevitably with disability.
As Carpenter repeatedly shows, swingeing cuts to benefits and allowances have disproportionately affected the most vulnerable people, who rely on the system to be able to live some sort of meaningful life. Add huge cuts to local authority funding, rising demand for social care, the loss of networks of support that rely on grant funding and a race to the bottom by providers aiming to win contracts, and you have a perfect storm creating deep poverty, isolation and unhappiness.
Showing how this works out in a personal way in the lives of those behind the statistics is the great achievement of Carpenter's book. He is both a gifted writer (and no doubt a formidable advocate) and a meticulous researcher who analyses each person's income and expenditure and shows they are all receiving way below the UK minimum income deemed necessary for an acceptable standard of living. Each is locked in an unequal and at times terrifying battle with the Department of Work & Pensions. The DWP and some politicians are the villains – not too strong a word for them – of this story. Their callous, systemic indifference to people's lives is a stain on this nation's moral integrity.
Review by Simon Jarrett